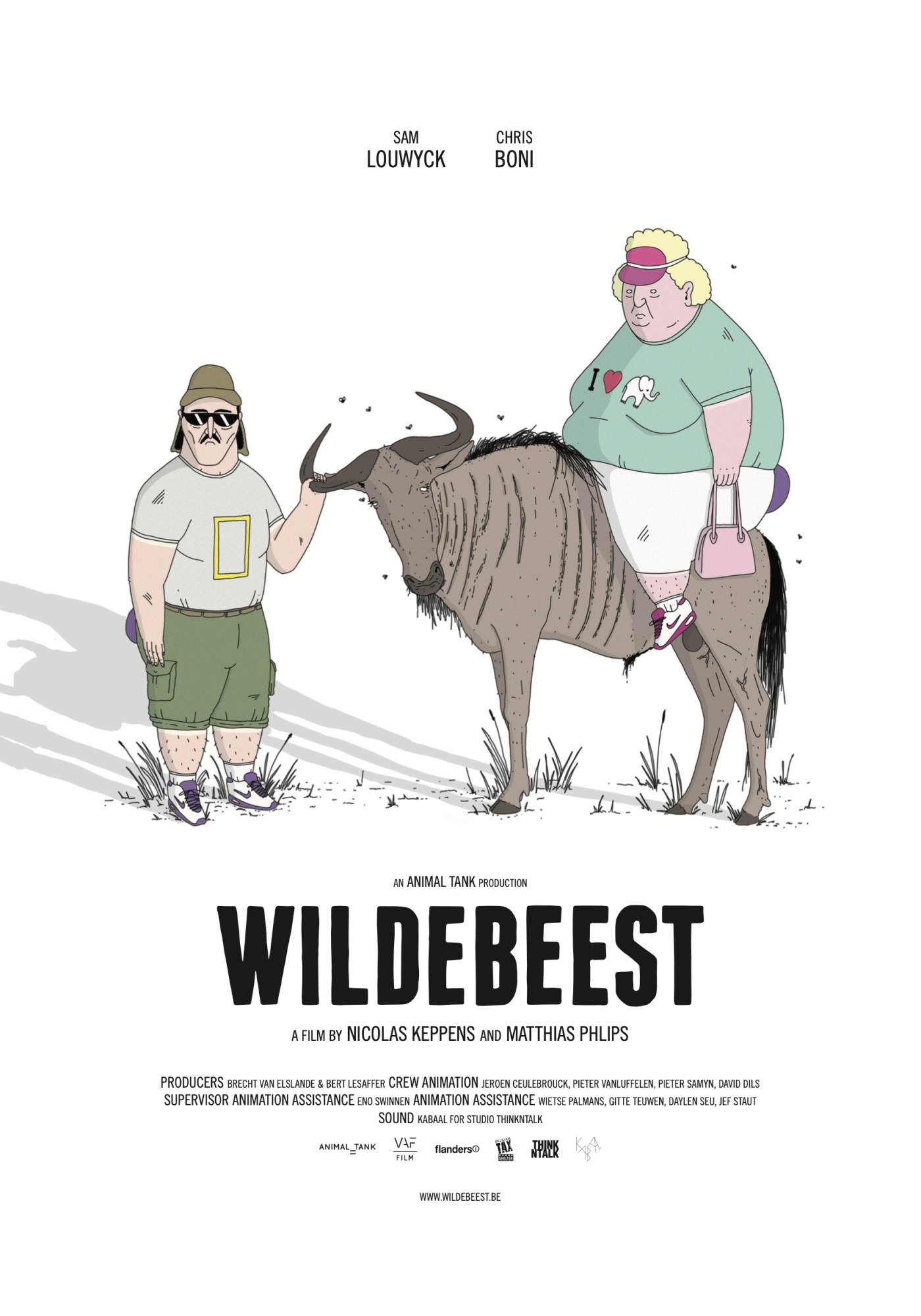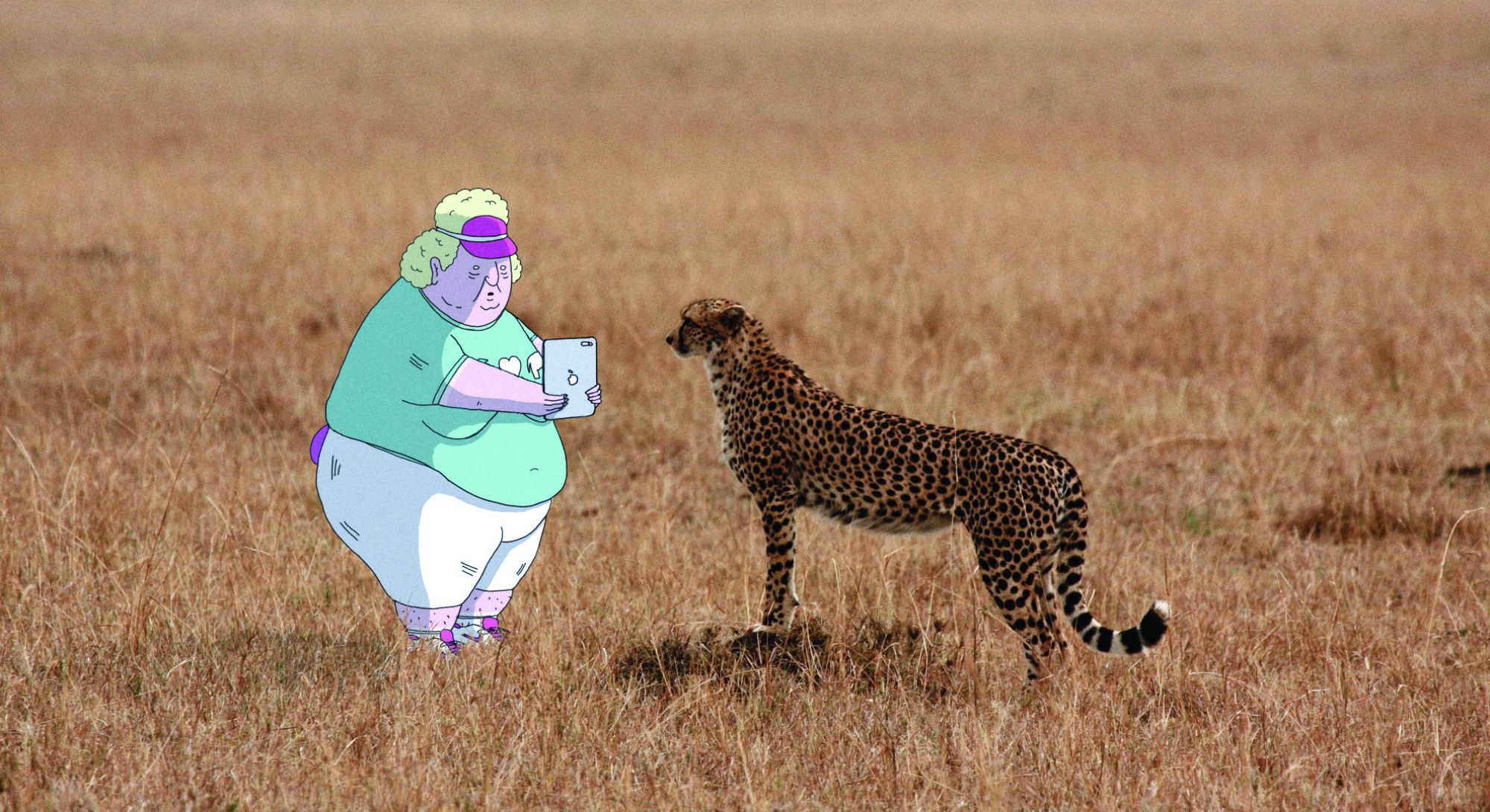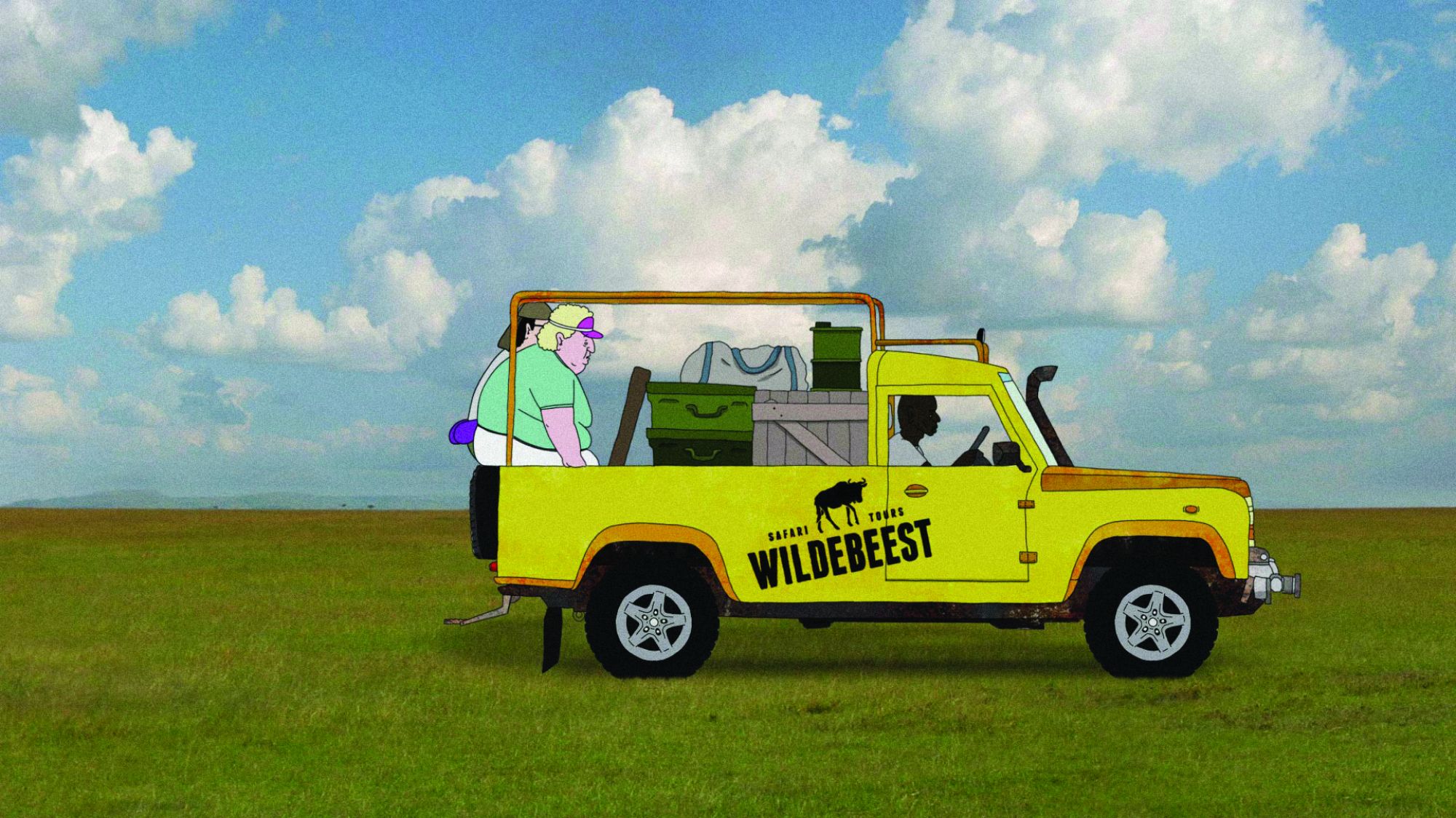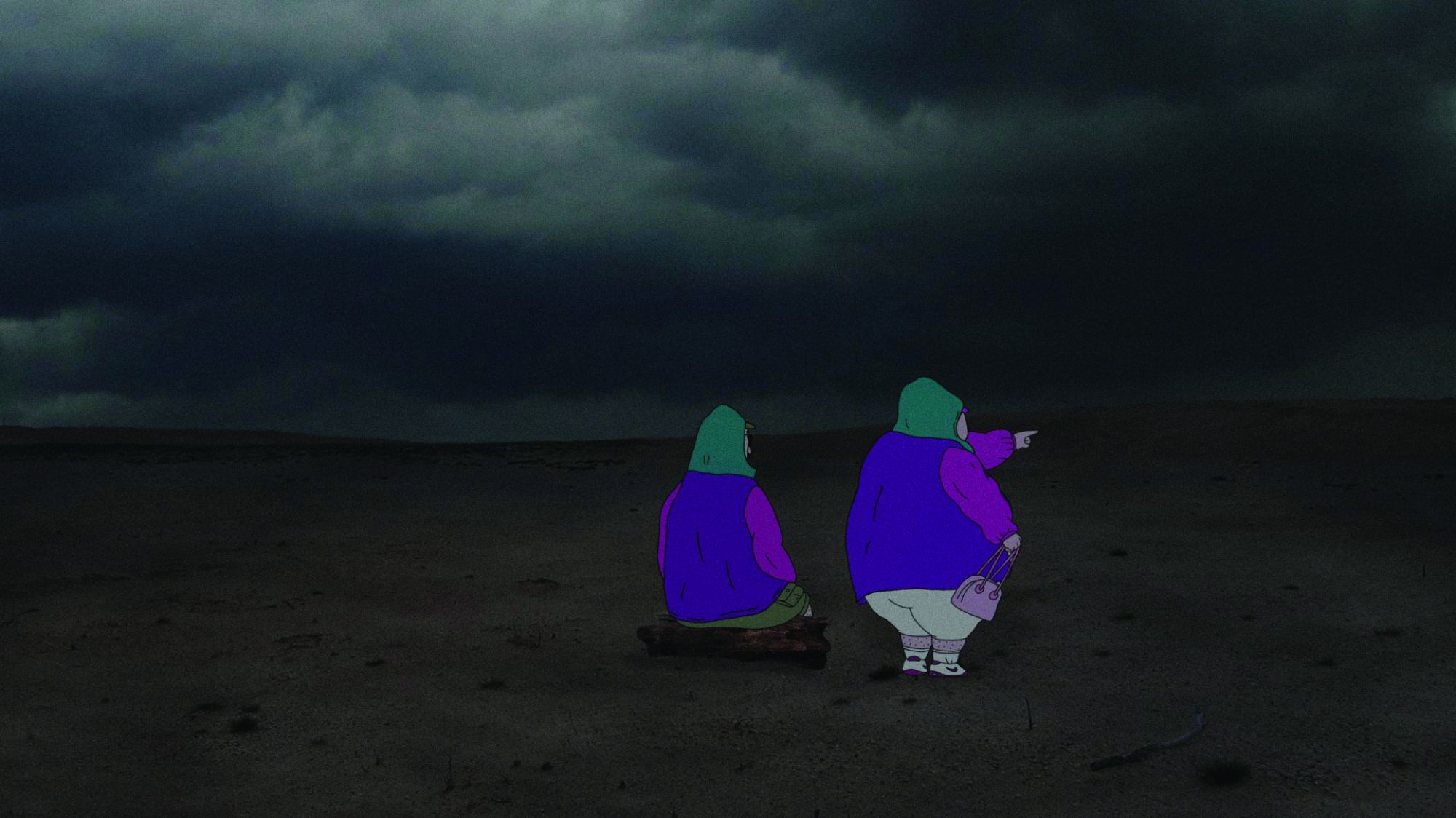 Wildebeest
Korte Animatiefilm
Going on a safari is a dream for many. For middle-aged couple Linda and Troyer, it turns into a horribly real adventure when they get left behind in the wilderness.
Wildebeest is a short animation/live-action film by Nicolas Keppens and Matthias Phlips (a.k.a. MAT), supported by Flanders Audiovisual Fund (VAF).
Available on Dalton Distribution
Written and directed by Nicolas Keppens & Matthias Phlips Voices by Sam Louwyck As Troyer & Chris Boni As Linda Producer Animal Tank Line producers Brecht Van Elslande & Bert Lesaffer Animation by Eno Swinnen, Jeroen Ceulebrouck, Pieter Vanluffelen, Pieter Samyn, David Dils & Nicolas Keppens Compositing Alice Saadi & Nicolas Keppens Sound design, editing & mixing Greg Scheirlinckx (Kabaal For Studio Thinkntalk) Music by Arvo Pärt, Mario Spindler & Franz Schubert Festival coordination & sales: Animal Tank (Brecht@Animaltank.be) Distribution Dalton Distribution With the support of: Flanders Audiovisual Fund Tax Shelter of the Belgian Federal Government.

AWARDS
International Short Film Festival Leuven 2017 (Leuven, Belgium)
Audience Award for Best Flemish Animation Shortfilm

Anima Festival 2018 (Brussels, Belgium)
Award for Best Belgian Shortfilm + Authors prize SACD

Brussels Short Film Festival 2018 (Brussels, Belgium)
Award Le Prix Canal+ France

Guanajuato International Film Festival 2018 (Guanajuato, México)
Award Best Animated Short Film

La Guarimba Film Festival 2018 (Amantea, Italy)
Award Best Animation

Canal de Panama International Film Festival 2018 (Panama)
Award Best International Animation Short Film

Fantoche International Animation Film Festival 2018 (Baden, Zwitzerland)
Award Best Film

Encounters Film Festival 2018 (Bristol, UK)
Animated Encounters Grand Prix Award

KLIK Amsterdam Animation Festival 2018 (Amsterdam, The Netherlands)
Award Best Animated Short

EFA - European Film Awards 2018
nominated in the short film category

Multivision International Festival of Animated Arts 2018 (Sint-Petersburg, Russia) Special Mention of The Jury

Premiers Plans Festival (Anger, France) 2019
Grand Prix of the jury and Prix du Public Award

FESTIVALS

International Short Film Festival Leuven (Leuven, Belgium):
December (2017) - world premiere at the opening night

Anima Festival (Brussels, Belgium)
9 January - 18 February  2018

Netwerk Aalst (Aalst, Belgium)
9 March  2018

Ciné Privé (Ghent, Belgium)
16-18 March 2018

Brussels Short Film Festival (Brussels, Belgium)
26 April - 6 May  2018

Anifilm (Praha, Czech Republic)
1 - 6 May  2018

Animafest - World Festival of Animated Film (Zagreb, Croatia)
4 - 9 June  2018

Fest - New Directors / New Film Festival (Espinho, Portugal)
18 - 25 June 2018

Palm Springs International Short Film Festival (Palm Springs, California)
19 - 25 June  2018
Fest Anca - International Animation Festival (Zilina, Slovakia)
28 June - 1 July 2018
 
Guanajuato International Film Festival (Guanajuato, México)
20 - 29 July   2018

Anima Mundi (Rio De Janeiro & São Paulo, Brazil)
24 July - 5 August  2018

La Guarimba Film Festival (Amantea, Italy)
7 - 11 August 2018

Anibar International Animation Festival (Peja, Kosovo)
13 - 19 August 2018

Canal de Panama International Film Festival (Panama)
16 - 18 August 2018

Seoul International Cartoon & Animation Festival (Seoul, South-Korea)
23 - 26 August 2018

Montreal World Film Festival (Montreal, Canada)
23 August - 3 September  2018

Fantoche International Animation Film Festival (Baden, Zwitzerland)
4 - 9 September 2018

Shorts México - Festival Internacional de Cortometrajes (Mexico City, Mexico)
5 - 12 September  2018

Linoleum Animation Festival (Kiev, Ukraine)
6 - 9 September 2018

Festival Off-Courts Trouville (Trouville, France)
7 - 15 September 2018

Encounters Film Festival (Bristol, UK)
25 - 30 September 2018

Anim'est International Animation Film Festival (Bucharest, Romania)
28 September - 7 October 2018

Animatou International Animation Festival (Geneva, Switzerland)
5 - 13 October 2018

KLIK Amsterdam Animation Festival (Amsterdam, The Netherlands)
10 - 14 October 2018

Shnit Worldwide Shortfilmfestival (Bern, Switzerland)
18 - 28 October 2018

Multivision International Festival of Animated Arts (Sint-Petersburg, Russia)
27 October - 19 November  2018

Dok Leipzig (Leipzig, Germany)
29 October - 4 November 2018
 
TIAF - Tbilisi International Animation Festival (Tbilisi, Georgia)
2 - 4 November 2018

Catacumba Film Festival (Godella, Spain)
31 October - 4 November  2018

Festival Européen du Film Court de Brest (Brest, France)
6 - 11 November 2018

Manchester Animation Festival (Manchester, UK)
13 - 15 November 2018

Exground Filmfest (Wiesbaden, Germany)
16 - 25 November 2018

Interfilm (Berlin, Germany)
20 - 25 November 2018

PÖFF Shorts (Talinn, Estonia)
20 - 28 November 2018

European Film Awards 2018
Shorts Matters tour

Animax Skopje Fest (Skopje, Macedonia)
29 November - 2 December 2018

Anchorage Film Festival (Anchorage, Alaska)
30 November - 9 December 2018

Flickerfest (Bondi, Australia)
11 - 20 January 2019

Premiers Plans Festival (Anger, France)
25 January - 3 February 2019

Animac (Lleida, Spain)
21 - 24 February 2019

Tampere Film Festival (Tampere, Finland)
6 - 10 march 2019

Ciné Court Animé (Roanne, France)
18 - 24 March 2019

Monstra Animation Festival (Lisbon, Portugal)
20 - 31 March 2019

GLAS Animation Festival (Berkeley, California)
21 - 24 march 2019

Vilnius Short Film Festival (Vilnius, Lituania)
21 March - 4 April 2019

Mecal Pro International Short and Animation Festival (Barcelona, Spain)
28 march - 14 april 2019

Stuttgart International Festival of Animated Film (Stuttgart, Germany)
30 April - 5 May 2019

Animakom Film Festival (Bilbao, Spain)
2 - 8 April 2019

Brussels Short Film Festival (Brussels, Belgium)
25 April - 5 May 2019

Screening "A wind of freedom" (Brussels, Belgium)
19 May 2019

Short Film Festival Cologne (Cologne, Germany)
5 July 2019

Aegean Film Festival (island of Patmos, Greece)
16 - 21 July 2019

ShortsUP, the The Great Picnic (Bucharest, Romania)
26 - 28 July 2019

Still Voices Short Film Festival (Ballymahon, Ireland)
15- 18 August 2019

LISFF Wiz-Art (Lviv, Ukraine)
19 - 25 August 2019

Cinéma Belge en Garrigue (Uzès, France)
19 - 25 August 2019

Viborg Animations festival (Viborg, Denmark)
23 - 29 September 2019

Best of Short Film Festival (La Ciotat, France)
2 - 6 October 2019

Animation Nights New York (New York, USA)
15 October 2019

Flying Film Festival (Fribourg, Switzerland)
November and December 2019

Fest Anca - International Animation Festival (Zilina, Slovakia)
27- 30 August 2020
TAGS
Deze zijn misschien ook nog leuk